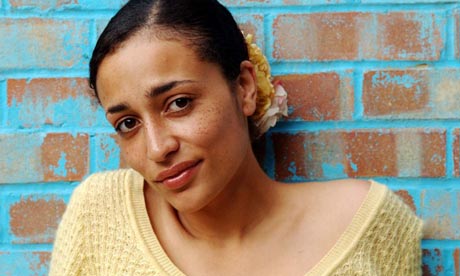 When faced with a book of essays, especially one that isn't tied to a single, unifying topic, it's tempting to leaf through the table of contents, cherry-pick the best entries, and discard the rest. But this isn't possible with Changing My Mind: Occasional Essays, the first collection of nonfiction by English novelist Zadie Smith. Quite simply, it's all cherry.
In the foreword, Smith writes that the book came together without her knowledge: "That is, I didn't realize I'd written it until someone pointed it out to me." These 17 essays were penned as individual commissions (some for newspapers, others as speeches), and run the gamut from close readings of canonical novels to a subversive look at Hollywood's annual Oscar fever to a thoughtful travelogue of a week spent in Liberia courtesy of Oxfam. Taken collectively, they reveal a charming and voraciously intelligent writer whose powers only appear to be sharpening with time.
Changing My Mind is divided into five loose sections. "Reading" and "Seeing" are full of relatively conventional literary and film criticism, respectively; "Being", "Feeling", and "Remembering" move into a more liminal space, where Smith draws more freely from her own experience, letting her various passions smash into one another whenever she sees fit.
Smith is wonderful in the straight-ahead criticism. Her prose is considerate and clean, and she approaches all of her material with an enviably open mind—hence the book's title. She's able to explain the academic appeal of Roland Barthes's famous essay "The Death of the Author" before running it up against the spectre of Vladimir Nabokov, perhaps the most unkillable author figure in 20th-century literature. The battle doesn't have a clear winner, but it doesn't need one.
Yet, instructive as those pieces are, it's in the more amorphous sections that Smith leaves the deepest impressions. Here, she writes indelibly about her brother's unlikely foray into standup comedy, as well as the virtues of Barack Obama's immense talent for linguistic fluidity ("speaking in tongues", as she playfully puts it).
Closing out the collection is the best piece of all: a long, sparkling essay on the deceased novelist David Foster Wallace that comprises the "Remembering" section. Like the essays on comedy and Obama, it's fizzy, endlessly clever, and—if there's any justice at all—a classic in the making.
Hamish Hamilton, 320 pp, $33, hardcover
(review originally appeared in The Georgia Straight, January 7, 2010)
Jan 7, 2010